Student visa chaos!
On July 6th, ICE (Immigration and Customs Enforcement) said all F-1 visa holders must go home or transfer if their course of study is 100% online. Just 8 days and a lawsuit later, Trump rescinded this policy on July 14. There is a big sigh of relief among foreign students and universities alike. Great news, but can we try not to rock the boat for non-immigrants and immigrants alike, every single day? Our clients/community need and deserve certainty and peace.


Backlog in printing of green cards and EADs
A Washington Post opinion article on July 9th stated that there are 50,000 green cards and 75,000 employment authorization documents that haven't been printed according to USCIS. The unprinted green cards are a combination of renewal for the 10-year card as well as first-time green card holders. Why is this happening? According to the article, USCIS' contract ended with its printing company, and the administration decided to do it in-house but, due to USCIS' financial dire straits leading to a hiring freeze, printing had to be cut back. What can you do if you don't have your green card yet, but you need it ASAP? You can request an InfoPass appointment by calling the 1-800# to get temporary proof of your lawful permanent resident status – this will either be what's called an I-551 stamp in your passport or an index-like card with your picture on it if you don't have a passport or if your current passport is expired. Other than asking for the EAD to get expedited, there's not much to do about your delayed work authorization document other than to wait.
Trump says DACA gets road to U.S. Citizenship
"I'm going to do a big executive order. …And I'm going to make DACA a part of it," Trump said. "We're going to have a road to citizenship." In a recent interview with Telemundo, el Presidente said that he was going to sign an executive order with sweeping immigration reform and a pathway to citizenship for DACA applicants. There is not too much information other than clarification from the White House that this will not be an amnesty. We are keeping a close eye on this and who we might be able to help. Contact us at 757-464-9224 or info@gmlaw.net if you would like to be put on our secure email and text list to be contacted if immigration law changes, and it can help you and your family. Click here to read more about this.
Accepting new DACA applications
We are currently accepting new DACA clients to help with filing brand new applications or for renewals. There's a lot of documentation to gather for a new DACA filing, and we are ready to help you through the process. Below are the requirements for an initial DACA application.
According to USCIS, you may request DACA if you:
Were under the age of 31 as of June 15, 2012;
Came to the United States before reaching your 16th birthday;
Have continuously resided in the United States since June 15, 2007, up to the present time;
Were physically present in the United States on June 15, 2012, and at the time of making your request for consideration of deferred action with USCIS;
Had no lawful status on June 15, 2012;
Are currently in school, have graduated or obtained a certificate of completion from high school, have obtained a general education development (GED) certificate, or are an honorably discharged veteran of the Coast Guard or Armed Forces of the United States; and
Have not been convicted of a felony, significant misdemeanor,or three or more other misdemeanors, and do not otherwise pose a threat to national security or public safety.
Attorney Mendoza's experience at her recent USCIS interviews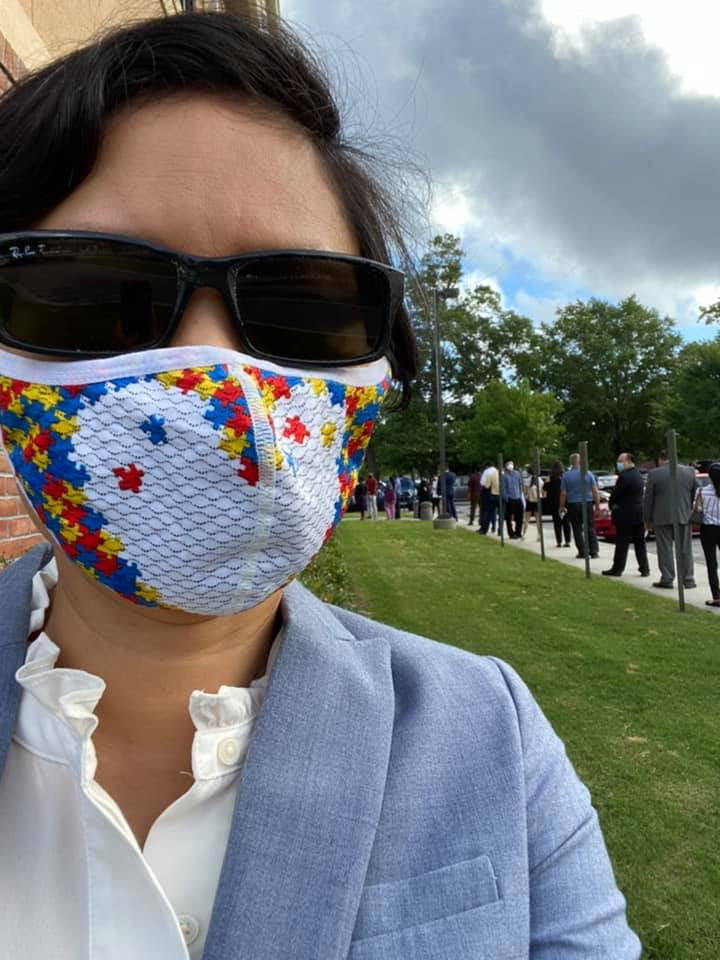 Based on the notices we're getting in our offices, USCIS is conducting only N-400 interviews and appeals. (1) If you have an interview appointment, don't get in the long line that wraps around the building like I did – that's for people swearing-in to become U.S. Citizens. There have been reports that people are getting notified to come to a swearing-in just days after their interview; also the office may be doing same-day swearing-ins (don't quote me on this, I asked, and they said 'maybe'). Everything is the same, except there were hardly any people on the second floor for interviews. There are 56 total seats on the second floor and 20 are open for seating. Both times, there was only one other person there waiting for their interview. So, lots of social distancing. In the offices where interviews are conducted, it was hard to get the 6 feet between client and attorney, but we were all wearing masks, and there are plastic shields on each desk. Hand sanitizer is readily available. Everything seemed clean, and because not many people around, I felt comfortable and so did my clients. No one was there for InfoPass; I found out that the officers are working two weeks in the office and two weeks from home.
Immigration court updates
If you know you have an upcoming immigration court hearing but you're not sure whether it's been moved to another date, call the EOIR case status number at 1-800-898-7180 and follow the prompts. You will need your A-number to get information on your next hearing date.
More time to respond to USCIS
You will have more time to respond to a notice issued by USCIS in response to COVID-19. You can respond to USCIS within 60 days of your due date If you received deadlines for any of the following if the notice is dated between March 1, and September 11, 2020: Request for Evidence (RFE), Continuations to Request Evidence (N-14), Notices of Intent to Deny/Revoke, Rescind, N-336, I-290B. For example, if your due date is August 1, then you can submit the response up to 60 days past August 1st.
Embassies back in business
Embassies are going to be opening up – no official start date for Embassies, but we expect different dates for reopening depending on the country. One of our clients recently had an interview and was approved for a U.S Citizen spouse-based immigrant visa in Manila, Philippines. The visa was also issued to him a week after his interview. Our client's interview was previously cancelled due to COVID-19. We are VERY happy about this development and so are our clients. As we get news of our clients being scheduled for interviews, we will let you know!
USCIS furloughs still planned despite increase in revenues
Furloughs are expected for more than half of USCIS employees starting August 3, 2020. According to an article in www.govexec.com, "The Trump administration is moving forward with more than 13,000 furloughs even though the impacted agency no longer expects to see a budget shortfall this fiscal year, according to lawmakers and internal emails sent to employees. Read the full article here.
GM Law back to virtual appointments
Due to the uptick of COVID-19 cases in our city and surrounding areas, we have again pushed pause on in-office consultations. There are many considerations to balance, and we've made the decision for now to go back to virtual consultations only in our Virginia Beach and Newport News offices. We feel it's the best thing to do right now for the safety of our team and our clients. We will continue to monitor the COVID-19 situation very closely. We can fully and completely serve our clients by phone and Zoom consultations. We understand this is not the preferred choice for everyone, but it is the safest. And if you don't have your health, you have nothing – health is wealth! We want everyone to be safe. Thank you for your patience! If you need to drop anything off at our office, please call us at 758-464-9224 to schedule a time or email info@gmlaw.net.
Driver Privilege Cards
Starting 01/01/2021, Virginia driver privilege cards will be available without proof of legal residence in the United States. So long as you can pass the driver's test and show that you have filed taxes and have insurance, you may be eligible for a driver privilege card that will allow you to LEGALLY drive in Virginia. This is awesome news for so many! If you want more information or help with this, please contact us. We are providing a full range of service for our clients, including getting the ITIN (individual tax identification number) in order to file taxes, assisting with tax preparation and helping our clients at the DMV. We are here to make sure you have all that is necessary to get your driver privilege card.
Undocumented aliens and the census
President Trump on Tuesday signed an executive order excluding illegal immigrants from being counted in the 2020 United States census. "My Administration will not support giving congressional representation to aliens who enter or remain in the country unlawfully, because doing so would create perverse incentives and undermine our system of government."
Thank you!
Thanks for reading our weekly immigration and court updates. Our goal is to provide as much helpful information out there to our community. As always, we appreciate your support! Contact us if you have any questions at all – 757-464-9224 or send us a message to info@gmlaw.net. And if you've read this far, check out our most recent Google review from Imane: